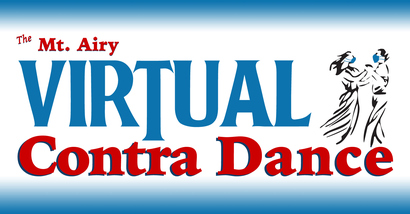 Regular dances are cancelled, so we have moved online!
Join us live every 1st and 3rd Thursday from 8 to 9:15 pm for fun dancing with fantastic local and national bands and callers.
All you need is a computer with the popular video chat app that starts with 'Z' and ends with 'm', and some dancing energy.
Our membership drive for 2020 was announced at our online events in early September. Membership is free, but must be renewed annually. Your membership will be until Dec. 2021. Joining by September 10 lets you vote in the October elections.

NOTE: You can be on our email announcement list with or without being a PATMAD member.

Since we can't come to a physical dance, membership and nomination forms are now online:

Membership form (new or renewal)

Board nomination form
The shutdown is especially hard on our musicians and callers. Please donate to the tip jar.
All donations go to the performers for the most recent dance.
April 23
Donna Hunt
Box and String: Bill Quern and Sarah Gowan
May 7
Donna Hunt
Box and String
May 21
Sue Gola
Box and String
June 4
Sue Gola
Chloe, Rick, & Evan Mohr
June 18
Scott Higgs
Mohr Family Band
July 2
Scott Higgs
Tom and John Krumm
July 16
Jacqui Grennan
Bethany Waickman and Glen Loper
Aug. 6
Dave Rupp
Janet and Robert Mills
Aug. 20
Bev Bernbaum
Tom and John Krumm
Aug. 27
Phil Jamison presents:
Hoedowns, Reels, and Frolics: Roots and Branches
of Southern Appalachian Dance
Sept. 3
Janine Smith
Arrrrr mateys! We had some swashbuckling fun on an early Talk like a Pirate Night with

Box and String Trio:

Bill Quern, Sarah Gowan, and Laura Alexander
Sept. 17
Chet Gray
Kathy Talvitie and Bob Pasquarello
Oct. 1
Donna Hunt
Strings on Wings: Barb Schmid and Todd Clewell
Oct. 15
Scott Higgs
Janet and Robert Mills
Nov. 5
Seth Tepfer
Casey Murray and Molly Tucker
Nov. 19
Dave Rupp
Mad Katters: Marnen Laibow-Koser, Kirsten Erwin, and Adlai Waksman
Dec. 3
Sue Gola
Glen Loper and Bethany Waickman
Dec. 17
Claire Takimori
The Fretful Porpentine: Kate Sanders, Paul Whiteley, Sophia & Martin Sanders-Whiteley
Registration info: Invitations to our online dance are sent to the Mt. Airy Contra Dance email list on Monday or Tuesday before each dance. To be added to our email list, send email to with your full name and the location of your local contra dance.
When you get the email announcement, click the link in the email to register. Register by 6:00pm the night of the dance to assure that you will be admitted promptly. You will get a confirmation email that includes a link and a password to join the dance.
We have a limit of 100 participants. People who dance regularly in Mt. Airy have priority. Dancers from out of town who register in advance are also admitted.