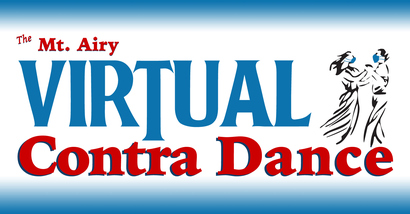 Regular dances are canceled, so we have moved online!
Join us live every 1st and 3rd Thursday from 8 to 9:15 pm for fun dancing with fantastic local and national bands and callers. All you need is a computer with the popular video conferencing app that starts with 'Z' and ends with 'm', and some dancing energy.
The shutdown is especially hard on our musicians and callers. Please donate using PayPal
or mail a check payable to PATMAD c/o Commodore Barry Center,
6815 Emlen St, Philadelphia PA 19119
All donations are tax-deductible, and go to the performers for the most recent dance.
For personal checks, please put the dance's date in the Memo line.
(Previous dances, from April 2020 onwards – yes, we've been doing this for over a year! – are listed in the 2020 and 2021 calendars.)
April 1
Scott Higgs
Mad Katters: Marnen Laibow-Koser, Kirsten Erwin, and Adlai Waksman
(from the Boston AND Philadelphia areas, using Ian Brehm's contra chaining method)
April 15
Charlie Turner (from the UK)
Casey Murray and Molly Tucker
May 6
Jacqui Grennan
Jared Kirkpatrick and Mo Brachfeld
May 20
Cis Hinkle
Roofing Material: Bob Pasquarello, Kathy Talvitie, and Mat Clark
June 3
Donna Hunt
John and Tom Krumm
June 10
Guest speaker - Susan Kevra presents
A Crash Course in the History of American Social Dance
June 17
Sue Gola
Janet and Robert Mills
July 1
Janine Smith
Box and String Trio: Bill Quern, Sarah Gowan and Laura Alexander
Registration info: Invitations to our online dance are sent to the Mt. Airy Contra Dance email list on Monday or Tuesday before each dance. To be added to our email list, send email to with your full name and the location of your local contra dance.
When you get the email announcement, click the link in the email to register. Register by 6:00pm the night of the dance to assure that you will be admitted promptly. You will get a confirmation email that includes a link and a password to join the dance.
We have a limit of 100 participants. People who dance regularly in Mt. Airy have priority. Dancers from out of town who register in advance are also admitted.