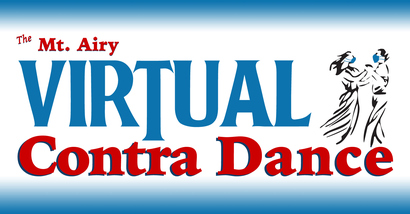 Regular dances are canceled, so we have moved online!
Join us live every 1st and 3rd Thursday from 8 to 9:15 pm for fun dancing with fantastic local and national bands and callers. All you need is a computer with the popular video chat app that starts with 'Z' and ends with 'm', and some dancing energy.
The shutdown is especially hard on our musicians and callers. Please donate to the tip jar.
All donations are tax-deductible, and go to the performers for the most recent dance.
(Previous dances, from April 2020 onwards, are listed in the 2020 calendar.)
Jan. 7
Janine Smith
John and Tom Krumm
Jan. 14
Guest speaker - David Millstone presents Country Dance in Modern Times: Squares, ECD and Contras in Post-WWII America
Jan. 21
Perry Shafran
Chloe, Rick, and Evan Mohr
Feb. 4
Bev Bernbaum
Beverley Street: Jane Rothfield, Allan Carr, and Bill Wellington
Feb. 18
Drew Delaware
(from Toronto)
Butter Barrel: Jared Kirkpatrick and Bo Marchman
Mar. 4
Chet Gray
Strings on Wings: Todd Clewell and Barb Schmid
Mar. 18
Dave Rupp
Box and String Trio: Bill Quern, Sarah Gowan and Laura Alexander
Registration info: Invitations to our online dance are sent to the Mt. Airy Contra Dance email list on Monday or Tuesday before each dance. To be added to our email list, send email to with your full name and the location of your local contra dance.
When you get the email announcement, click the link in the email to register. Register by 6:00pm the night of the dance to assure that you will be admitted promptly. You will get a confirmation email that includes a link and a password to join the dance.
We have a limit of 100 participants. People who dance regularly in Mt. Airy have priority. Dancers from out of town who register in advance are also admitted.