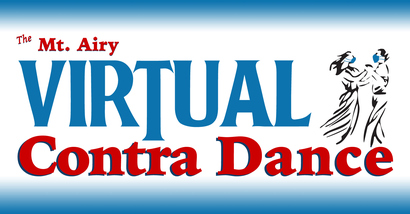 Mt Airy Contra is now offering both online and in-person contra dancing!
Join us live from 8:00 to 9:15 pm for fun online dancing with fantastic local and national bands and callers. Doors open at 7:45. Our bands announce their tunes so that you can play along from home. Hang out after the dance for conversation with dancers near and far.
The shutdown has been especially hard on our musicians and callers. Please donate using PayPal
or mail a check payable to PATMAD c/o Commodore Barry Center,
6815 Emlen St, Philadelphia PA 19119
All donations are tax-deductible, and go to the performers for the most recent dance.
For personal checks, please put the date of the dance in the Memo line.
Virtual dances hosted by Mt. Airy are listed below.
Virtual contra dances presented by the All Hands In partnership are now two Tuesdays per month, starting in June! See allhandsin.dance for info.
Mt. Airy in-person Contra Dances have resumed!

(Previous dances, from April 2020 onwards, are listed in the full calendar.)
Date
Caller
Band
Jan 22, 2022
Donna Hunt
Raise the Roof: Mat Clark (fiddle), Bob Pasquarello (bass), Judi Stellar (hammered dulcimer), Kathy Talvitie (guitar)
Feb 26
Tarka Ayres
Rick Mohr (fiddle), Chloe Mohr (piano) & Evan Mohr (percussion)
Mar 19
Irish dance party
Glenn Loper & Bethany Waickman playing
Jigs, Reels, Waltzes, Polkas and More!
Mar 26
Emily Abel
Sugar Beat: Elke Baker (fiddle), Susan Brandt (flute), Mark Glickman (piano)
3rd Saturday
Apr 16
Sue Gola
Instant Ensemble: Roberta Goren (flute), Dave Miller (fiddle), Adlai Waksman (piano)
May 28
Steve Zakon-Anderson
John Krumm, Bob Pasquarello & Friends
We are proud to join the Atlanta and Toronto groups to present All Hands In. Together we have been presenting a virtual contra dance (almost) every Saturday (now two Tuesdays a month at 8:00pm Eastern time, as of June). See allhandsin.dance for more information and the full dance schedule.