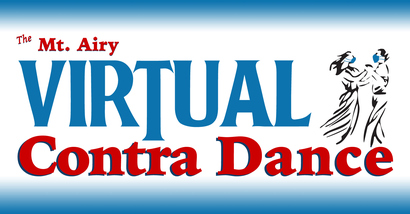 Indoor in-person dances are canceled, so we have moved online!
Join us live from 8:00 to 9:15 pm for fun dancing with fantastic local and national bands and callers. Doors open at 7:45. Hang out after the dance for conversation with dancers near and far.
The shutdown is especially hard on our musicians and callers. Please donate using PayPal
or mail a check payable to PATMAD c/o Commodore Barry Center,
6815 Emlen St, Philadelphia PA 19119
All donations are tax-deductible, and go to the performers for the most recent dance.
For personal checks, please put the date of the dance in the Memo line.
Virtual contra dances every Saturday! See allhandsin.dance for info.
(Previous dances, from April 2020 onwards are listed in the 2020, 2021, and 2022 calendars.)
Saturday
Dec 25
Michael Karcher

(Yes, Virginia, we were dancing on Christmas Day in the evening!)

Moveable Feets: Kirsten Erwin (flute, whistle), Adam Oleksa (fiddle), Steve Epstein (clarinet), Jane Roberts (cello), Adlai Waksman (piano)

Jan 22, 2022
Donna Hunt

Raise the Roof: Mat Clark (fiddle), Bob Pasquarello (bass), Judi Stellar (hammered dulcimer), Kathy Talvitie (guitar)

Yellow Balloon Studio
Mt. Airy Virtual Contra Dances have moved to the fourth Saturday of each month. We are proud to join the Atlanta, Toronto and Glen Echo groups to create the next evolution of All Hands In. Together we will present a virtual contra dance every Saturday at 8:00pm Eastern. Doors open at 7:45pm. See allhandsin.dance for more information and the full dance schedule.
Join us: Invitations to our online dance are sent to the Mt. Airy Contra Dance email list on Monday or Tuesday before each dance. To be added to our email list, send email to with your full name and the location of your local contra dance.