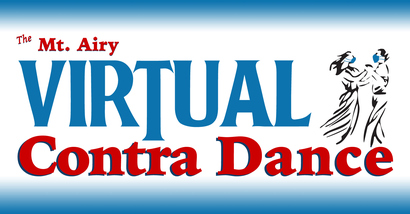 Susan Kevra presents: "A Crash Course on the History of American Social Dance"
Thursday June 10, 2021, at 8:00pm EST
Many of you know Susan as a dance caller but she is also a professor at Vanderbilt University, where she teaches a course called American Social History through Dance. Join us as Susan presents an overview of her course which charts dance history in America from Native American Dance through Hip Hop with a chance to see amazing footage of dance from across the centuries.
---
Registration info: Invitations to our online events are sent to the Mt. Airy Contra Dance email list on Monday or Tuesday before the event. To be added to our email list, send email to with your full name and the location of your local contra dance.
When you get the email announcement, click the link in the email to register. Register by 6:00pm the night of the event to assure that you will be admitted promptly. You will get a confirmation email that includes a link and a password to join the event.
---
Susan Kevra is a dance caller, musician and singer who now makes her home in Nashville, Tennessee. She travels across the country and occasionally, around the globe to teach contra, square dances, English Country dancing and French dancing. She is an accomplished clarinetist and a member of the band, Old World Charm School (with Karen Axelrod and Rachel Bell) who perform French café music and English Country dance tunes. The composer of contra and square dances, Susan represents a new voice in English country dance choreography. Tunes by her bandmate, Rachel Bell, have inspired her to choreograph a dozen English dances and counting, including "Trip to Provence" and "Moonflower" which are making their way onto dance floors and ball programs in the US and England. She is also a professor of French and American Studies at Vanderbilt University, where she teaches a writing seminar, "American Social History through Dance."